International Journal of P2P Network Trends and Technology – IJPTT is an international, double blind peer-reviewed open access journal covering the full scope of Networking, Cloud Computing, Grid and Distributed Computing, Security, Wireless communications, wireless and mobile computing, wireless information networks, etc. IJPTT is the flagship publication of Seventh Sense Research Group ( SSRG )®.
The primary purpose of the journal is to publish original and complete papers covering a computer related areas in sufficient detail and depth to be of practical use to interested readers. The readers should benefit from the novel solutions and analyses presented in the papers. IJPTT seeks to deliver useful information for all network professionals and students, including computer scientists, engineers, and practitioners of all levels.
The core of the vision IJPTT is sharing new research ideas in network related fields. In every year majority of research efforts get lost due to lack of effective scientific archival systems but IJPTT provides speedy and effective archival system which gives high opportunities for network professionals, industry professionals and research scholars to present ongoing research.
Benefits of IJPTT Authors:
Fast & Easy paper publishing process.

Fast publication process.
High visibility.
" Digital Object Identifier ( DOI ) " number to each published article.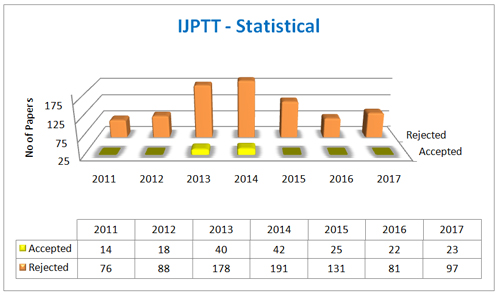 Authors Geographical Coverage : Nigeria, India, Japan, Bangladesh, Iran, Egypt, Malaysia, Iraq, Pakistan
Submit Your article: This email address is being protected from spambots. You need JavaScript enabled to view it. ,
Frequency: Bimonthly,
ISSN: 2249-2615,
Subject : Networks,
Published By: Seventh Sense Research Group ( SSRG )®